George Herbert Walker Bush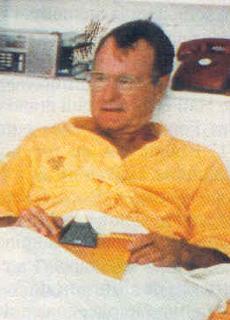 George Bush Sr. likes sleeping with Illuminati light capped pyramid.
1991-03-06
Now, we can see a new world coming into view. A world in which there is the very real prospect of a new world order. In the words of Winston Churchill, a world order in which "the principles of justice and fair play protect the weak against the strong. . . ." A world where the United Nations, freed from cold war stalemate, is poised to fulfill the historic vision of its founders. A world in which freedom and respect for human rights find a home among all nations.
1991-01-17
This is an historic moment. We have in this past year made great progress in ending the long era of conflict and cold war. We have before us the opportunity to forge for ourselves and for future generations a new world order, a world where the rule of law, not the law of the jungle, governs the conduct of nations. When we are successful, and we will be, we have a real chance at this new world order, an order in which a credible United Nations can use its peacekeeping role to fulfill the promise and vision of the U.N.'s founders.
1991-01-29
What is at stake is more than one small country; it is a big idea: a new world order, where diverse nations are drawn together in common cause to achieve the universal aspirations of mankind - peace and security, freedom, and the rule of law.
Positions